10 days | $1,695
Loreto To La Paz
ADVENTURE TYPE
Kayak
EXPERIENCE NECESSARY
No Experience
AGE MINIMUM
16
DESTINATION/
LOCATION
Loreto / La Paz, Baja Mexico
TRIP DATES
2021-April 12-21
Highlights
See 80-100 miles of scenic Baja coastline
Join other avid kayakers in a long-distance journey
Experience the history and culture of the Baja Peninsula up close
Enjoy the expertise of our local guides
Stop at beautiful campsites in picturesque locations
Witness the immense variety of life along the coast
2 WEEKS OF SERIOUS KAYAKING ALONG THE BAJA COAST
Our favorite long-distance adventure, the La Paz Route takes 10 days for a group of experienced paddlers to complete. The seas and coastline provide the perfect environment for relaxing and exploring. If you've tried our Coasts & Islands trip and want to see more, or if you're an avid kayaker who wants to experience as much of the Baja California coast as you can, this is the expedition for you.
You'll be paddling about 4-6 hours each day, with a general plan to cover 80 -100 miles in about two weeks. However, the schedule is flexible, and depends on what you and the guides decide is a reasonable amount of time. Each paddler will carry all the clothing, items, and equipment you will need for the duration of the trip. You form an independent, self-sufficient unit that sets its own pace. A normal itinerary looks something like this:
You'll be met at the Loreto airport by one of our representatives and be taken to a hotel in town. An afternoon orientation will help you become familiar with the trip, and you have the rest of the evening to explore the historic cobbled streets of Loreto.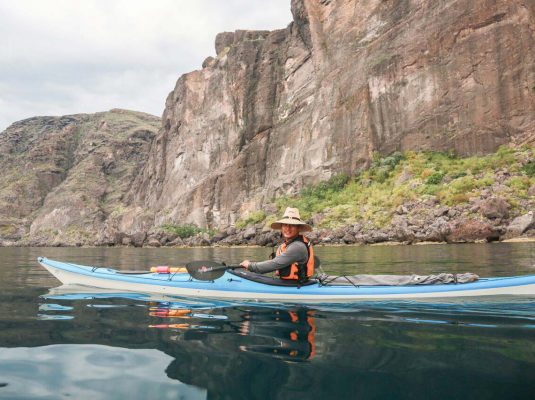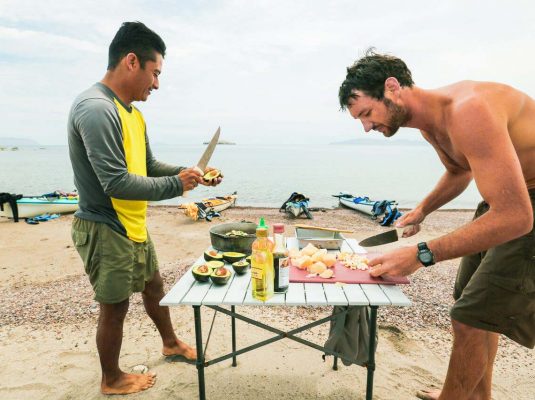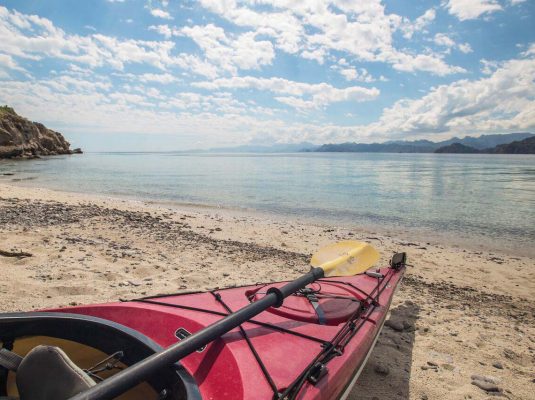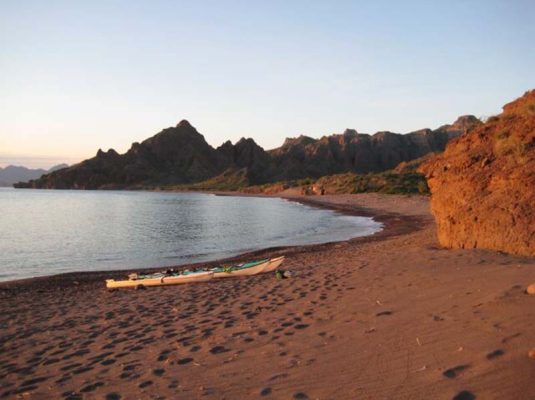 This trip begins at Loreto. Located on the lower part of the eastern gulf coastline, this town has long been a destination for people seeking a wilderness adventure.
More Info
Accommodations
Hotel accommodations are not included in the trip package. You will want to book accommodations for at least the night before the first published day of the trip, and then again for the night of the last published day of the trip.
For our confirmed clients, we are pleased to offer the services of our preferred Travel Planners, to assist with all of your flight and hotel needs. Although limited in number, visitors to Loreto have lodging choices that range from Luxury to budget. Our travel planner will assist you in determining lodging that fits your preferences. Our Travel planners are seasoned Baja veterans, and will help you find the best flight arrangements as well, so that your trip planning is smooth and efficient.
Packing List
You'll be provided a detailed, official packing list upon reserving a trip with Paddling South, but you may wish to keep the following list in mind while you prepare:

Ages 16 years old and up. Please call for questions about kids under 16 years old.
If you have any questions feel free to contact us.+